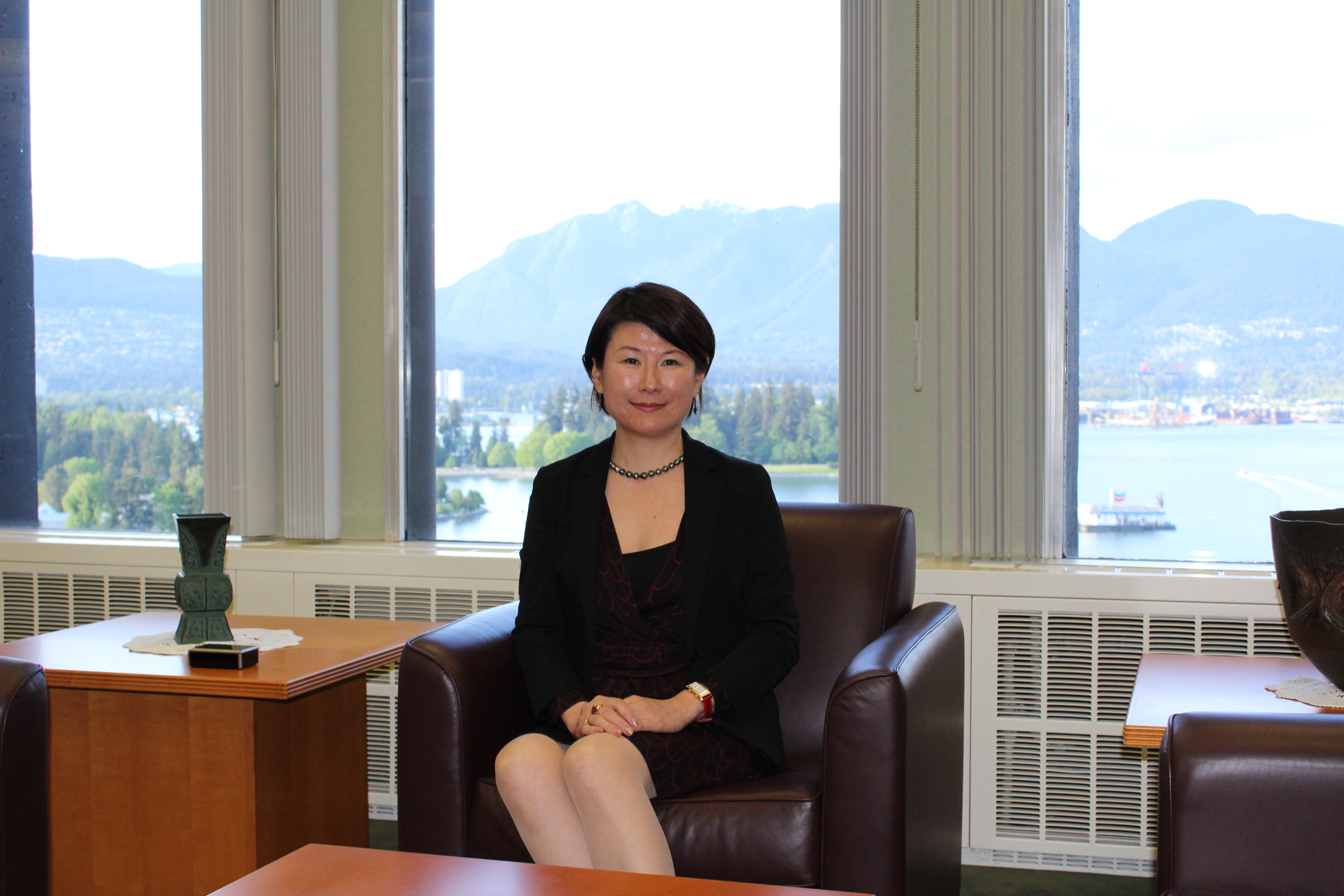 Interview with Asako Okai, Consul General of Japan in Vancouver
1. Tell us about yourself and your background.
During my 28 year career in the Japanese Foreign Service, I have worked extensively in areas such as development cooperation and post-conflict issues. For instance, I served as Director for Humanitarian Assistance and for African Affairs. Vancouver is my sixth posting abroad after serving at Embassies in countries such as the UK, Pakistan, Australia, Sri Lanka and Maldives, as well as at the Permanent Mission to the United Nations.
2. What excites you most about your role?
Opportunities that lie in front of me where I could make a difference while conducting my duties. I am thrilled and eager to serve the term here. There are many opportunities for expanding relations in every sense. For instance, I have a relatively large Japanese community of 35,000 to serve. That ranks 9th in all Japanese foreign missions worldwide. There is a long history of emigration from Japan that goes back to the 1870s. Vancouver is a gateway to Asia, and the cosmopolitan nature of the city creates a unique environment for immigrants and residents of all ethnic groups. There are thriving arts, culture, sports, and heritages of various ethnic groups. It presents huge opportunities for strengthening economic ties.
Also, I am happy to see that the education sector is already an important area between the two countries, and has great potential to grow further.
3. What are your aspirations for your first year as Consul General in Vancouver?
The goal I set is to make my consulate approachable and accommodating, while striving to be responsive to the needs of diverse communities, be effective in facilitating, and be collaborative with partners.
For example, I wish to be a "salesperson" of opportunities that Japan can offer to Canadian businesses, and at the same time, be an effective facilitator for Japanese companies to invest and do business with Canadian counterparts. Naturally, I have a role to play in promoting my own country. Through my activities here, I hope to be able to project attractive features of traditional and contemporary Japan, thus contributing to the celebration of multiculturalism. I would also like to stimulate International Education and tourism in both directions.
4. BC has been named Canada's gateway to Asia. How can we build on this potential to attract more Japanese students to study in BC while sending more BC students to Japan?
Through a targeted approach and marketing, I think we can increase student exchanges in both ways. As I explain in Question 5 below, there is momentum in Japan with various initiatives.
In order to attract more Japanese students to study in BC, educational institutions in BC can provide a tailored curriculum that match the needs of their Japanese counterparts. Creating partnership arrangements is also an effective way. Many Japanese institutions are looking for such an opportunity.
One of the ways to accomplish this objective may be to open up more opportunities for short-term study and people-to-people exchanges, especially for young people who have never experienced going to Japan from Canada or vice versa. For example, there is a working group established by this Consulate together with BCCIE, the Ministry of Education in BC, Destination BC, as well as Japanese tour operators based in BC, trying to expand Japanese short-term study tours at the high-school level. The Japanese counterparts are looking for schools that are willing to provide exchange experiences for their students when they visit BC. There are cases in the past when these kind of exchanges opened up opportunities for longer-term exchanges, encouraging Japanese students to come back to BC at the university level. We will continue our efforts to reach out to schools in BC in this regard, and we highly appreciate the cooperation by BC schools.
In terms of sending more BC students to Japan for a short-term period, the Japanese government launched the Kakehashi Project a few years ago to bring high school and university students to Japan for about 10 days. If more students get a taste of another country and culture, meet and bond with people from the other country and have a positive experience, it is more likely they will consider longer-term study in that country in the future.
We need to find ways to make students want to dig deeper into the culture and experience it over a longer term. We also need to continue to build awareness of the great opportunities available to them for study and their future career.
5. Prime Minister Abe's International Education strategy sets to double both the number of Japanese students studying abroad and the number of foreign students studying in Japan by 2020. Can you describe some of the policies and initiatives being undertaken by the Japanese public and private sectors to change International Education in Japan?
To encourage Japanese students to study abroad the government launched the Tobitate (Leap for Tomorrow) Study Abroad initiative. It aims to double the number of university students studying abroad from 60,000 to 120,000 and the number of high school students studying abroad from 30,000 to 60,000 by 2020. The program provides scholarships and other aid from private-sector contributions.
To increase the number of foreign students in Japan, the Government of Japan announced the "300,000 Foreign Students Plan," in 2008 which calls to more than double the number of students, from 140,000 to 300,000 by 2020.
International students can access a wide range of scholarships from Government of Japan (MEXT) Scholarships to many others offered by local governments, international organizations and private companies, in a lot of different fields. Japan is also one of the few countries that allow international students to work part-time.
The Government of Japan launched the Program for Advancement of Foreign Human Resources in 2015 with the intention of increasing the employment of international students in Japan, and hence developing the competitiveness of Japan's human resources in the global arena. The government and industry understand that foreign human resources will be a key factor contributing to Japan's competitiveness and global success. This collaborative effort has resulted in policies and initiatives to eliminate or reduce many of the barriers that can prohibit international students from studying in Japan and succeeding in finding employment after graduation.
One of the biggest barriers has been the language. For most programs, you had to be fairly fluent in Japanese to study at a Japanese university. Under the Japanese government's "Global 30" Project, the best universities in Japan are now offering degree programs in English in a wider variety of disciplines. Other universities not involved in Global 30 are following suit with the introduction of English based programs, as they also try to attract more foreign students.
As well, government ministries and agencies and companies are collaborating on various initiatives to help international students with career planning, job hunting and life after graduation. For example, the number of companies investing in internships is increasing in Japan. Also, university and regional student support centres have been set up to support students after graduation to find employment and successfully adapt to their communities and life in Japan.
6. Do you think the 2020 Tokyo Olympics will have any implications for the International Education sector?
Definitely. The Japanese Government set a target of doubling the number of foreign visitors to Japan by 2020, from the current 20 million to 40 million. This means a lot of resources are needed in the hospitality industry, as well as tourism and transport sectors. We expect to welcome people from diverse backgrounds. We will need better cultural understanding as well as the ability to communicate with these visitors. I expect International Education will play a huge role in developing these skills as Japanese students interact with people from other countries through studying at schools in Japan and abroad.
We have already seen the Tokyo Board of Education move to raise the level of English at public schools. The goal is to have all English teachers at Tokyo's junior and senior high schools spend three months studying in an English speaking country. Going abroad will also foster an understanding of different cultures and lifestyles, which can be transferred to their students.
Additionally, the number of Assistant Language Teachers employed by public schools across Japan through the JET Programme is also increasing as English language is now taught in elementary schools, and may be introduced starting from grade three. As such, there will be also a lot of opportunities for young people from abroad, interested in working in the sectors that I mentioned above.
7. Can you tell us about the Consulate General's involvement in the Japan Exchange and Teaching (JET) Programme?
The Consulate General is involved in the recruitment and recommendation of candidates for the JET Programme, as well as preparing selected participants before they depart for Japan. During the recruitment stage, we promote the program through advertising, social media, and visits to university campuses around BC. We conduct interviews in February and recommend candidates for positions as Assistant Language Teachers (ALTs) or Coordinators of International Relations (CIRs). After participants are selected, we provide support and training through seminars and Japanese language lessons to help participants get ready for their life in Japan. We are also available to answer any questions or address concerns participants may have before they leave. In addition, I host send-off and welcome back parties annually at my residence.
8. What upcoming events are open to BC youth interested in learning more about Japanese culture?
There are four major annual festivals in Vancouver celebrating Japanese culture. In addition, the Consulate General hosts and supports various Japan-related activities and events throughout the year. An event listing can be found on our website. Event announcements are also made through Facebook and Twitter. Currently, we are working on strengthening our capacity for outreach to the wider public, so please stay tuned.
For educational opportunities, we intend to hold Study in Japan information sessions at UBC and SFU in the fall. As well, we hope to participate in future Study and Go Abroad Fairs. Interested youth can seek us out to learn more about the wide variety of educational opportunities and programs available to study in Japan.
9. Are there any other messages that you would like to get across to our audience?
Studying abroad or going on exchange is a very valuable and precious experience, especially when it is experienced while you are still young. It has the potential to affect the rest of your life. Exposure to a foreign country, early on, can promote better understanding of different cultures and diversity.
We highly encourage Canadians to consider Japan when thinking about destinations for studying abroad in the future. With the current push by the Government of Japan and the private sector to increase the number of international students in Japan, it is a good time to take advantage of the opportunities on offer. Whether you are looking for short-term or long-term study options, there are many online resources that can help you discover the right fit for you:
https://bccie.bc.ca/wp-content/uploads/2016/10/IMG_0085.jpg
3456
5184
Chantal Moore
https://bccie.bc.ca/wp-content/uploads/2023/01/bccie-logo.png
Chantal Moore
2016-10-07 12:01:03
2016-11-23 16:05:41
Interview with Asako Okai, Consul General of Japan in Vancouver