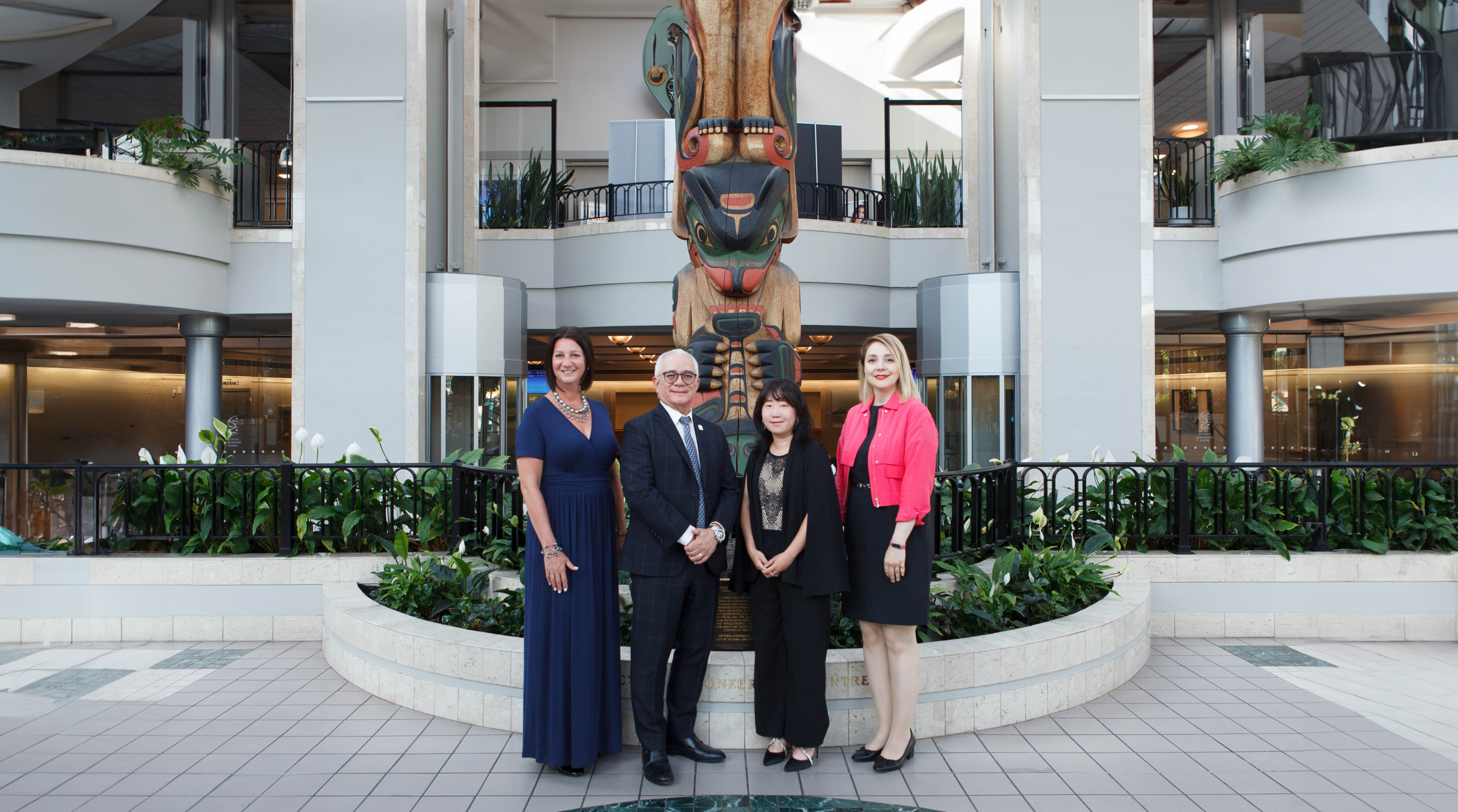 Victoria, BC — A rising star, a vibrant English language school, and two leaders in the international education sector were honoured last night at the 14th annual BCCIE International Education Awards. Hosted by the BC Council for International Education (BCCIE), the awards recognize outstanding achievement in the field of international education in British Columbia.
Winners represented a diverse cross-section of practitioners whose work has helped position BC as a leader in attracting and supporting international students and in delivering innovative global partnerships.
The awards coincide with BCCIE's BC International Education Week which has brought together more than 400 educators, administrators, and diplomatic figures from across BC, Canada, and internationally, to Victoria this week.
2023 BCCIE International Education Awards winners:
Rising Star in International Education Award
Sora Chang, International Student Liaison at Okanagan College, was recognized for her work in transforming the college's orientation and student engagement processes into a major success. Through Sora's innovative approach, the orientation participation rate for new international students has increased from 50 to 90 percent.
Outstanding Program in International Education Award
The English Language Centre (ELC) at the University of Victoria (UVic) was honoured for its excellence in delivering high quality and innovative English language programming. Established in 1970, the ELC supports UVic's international recruitment targets through its university pathway and university admission preparation English programs. Seppy Masoodi, Director of ELC, accepted the award on behalf of the school.
Excellence in International Education Marketing Award
Patrick Dang, CEO and President of SELC College, for his contributions to international marketing for the last three decades including spearheading marketing and recruitment efforts for both Sprott Shaw College and Acsenda School of Management. As CEO and President of SELC, Patrick has introduced several needs-focused programs for international students which has increased enrollment and secured SELC's position in the post-pandemic world.
International Education Distinguished Leadership Award
Jennifer Gossen, Director of International Education at Vancouver Community College (VCC), for her commitment as an international educator including developing, managing, and operating the international education office at VCC since 2016, and whose determined leadership has had a lasting effect on BC's international education sector.
Quote:
Randall Martin, Executive Director, BC Council for International Education
"The BCCIE International Education Awards, now in their 14th year, celebrate the tremendous achievement of our colleagues in the international education sector in BC. We are thrilled to recognize the outstanding work of this year's winners who continually go above and beyond in furthering international education initiatives in BC, Canada, and across the world."
https://bccie.bc.ca/wp-content/uploads/2023/06/AwardWinners-1-scaled.jpg
1707
2560
BCCIE
https://bccie.bc.ca/wp-content/uploads/2023/01/bccie-logo.png
BCCIE
2023-06-28 07:39:46
2023-07-13 14:27:38
Top Talent in BC's International Education Sector Honoured at 2023 BCCIE International Education Awards