Northern BC high school students "awestruck" by short-term exchange in Nanjing, China
By: Chris van der Mark
Superintendent of Schools, School District No. 54 (Bulkley Valley)
With help and coordination from the BC Council for International Education (BCCIE) and the Jiangsu Education Services for International Exchange (JESIE), a government unit representing China's Jiangsu Province, School District No. 54 (Bulkley Valley) sent 20 students to participate in a cultural immersion opportunity in Nanjing, China this November 21–29, 2015.
SD No. 54 is a small school district in North Central British Columbia, a 14-hour drive from Vancouver. SD No. 54 has 2100 students, six elementary schools, two high schools, one distributed learning school and one alternate school. For the purposes of this trip, students were selected from our two high schools. Smithers Secondary is a grade 8 –12 school of 680 students, while Houston Secondary is a small 8–12 school of 200 students. The target group for participants was grade 11.
Our group of 20 students were eagerly ready to set out for Shanghai on November 20. Once met by our guide and JESIE representatives, the students were bused to Suzhou, about 1.5 hours from Shanghai. Despite the long travel and jet lag, the students were keen to be up early in the morning to take in the sites of this beautiful canal city. Our hosts started us with a tour of the Unesco Heritage Site "Fisherman's Garden" where student were quickly aware of the importance of nature, water and the connectedness we have to our surroundings. Upon finishing the garden tour, students were taken through a silk factory, where they learned about the life-cycle of the silkworm and sampled the final products. The tour was wrapped up with a brief, but memorable trip on the canal where they were able to appreciate the "Venice of the East."
Life in Nanjing Province

From Suzhou we headed to Nanjing. Nanjing is the capital of Jiangsu province and the second largest city in eastern China – besides Shanghai – with a total population of over 8 million.
At Nanjing Secondary School, we met our hosts and began the cultural immersion portion of the trip. Once settled in the dorms, students were able to meet their "buddies" and begin sampling student life in China. Over the next four days, SD No. 54 students were taught music, paper cutting, painting, calligraphy, pottery, tai chi, and language. Throughout the learning portion, students frequently commented on how intertwined culture, nature, history and learning are in China. It is impossible to do justice to the learning opportunities provided to our students over these four days in this short summary, but we are very grateful for this educational exchange and very humbled by the tremendous hospitality and generosity afforded us by our host school and host families.
Once finished at school, students were taken into Nanjing to experience some of the rich history of the former capital city of China. While a very brief visit, there was time to take in the museums and the scale of building enterprise at sites such as Sun Yat Sen's Mausoleum of the First Yangtze Crossing.
After leaving Nanjing, students were taken back to Shanghai, where they had a little over a day to be awestruck by their first view of the city from the Bund or from the 80th floor of Shanghai's second tallest building!
The trip in conclusion was a great success and will leave a lasting impression on our students for years to come. It is our hope the connections and friendships made in China will be long-lasting, and students will graduate with enhanced cultural sensitivity and intracultural communication skills that will help them succeed in a global economy.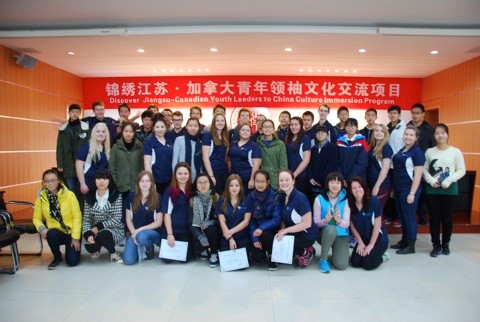 Northern BC high school students pose for the camera in Jiangsu, China