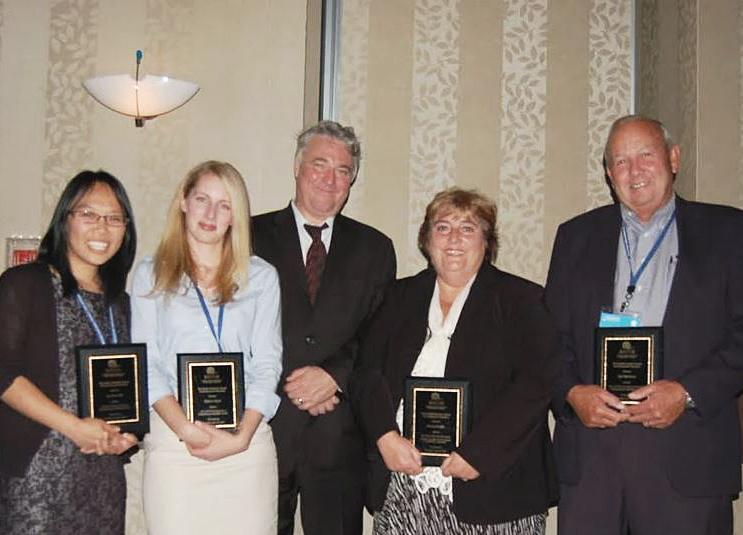 As a tribute to BCCIE's 25th year anniversary, we are interviewing BC International Education practitioners who have made significant contributions to the sector throughout the years. Below, Donna Hooker, former BCCIE Board Chair and Director, Vancouver Community College International, and now Director at Capilano University's Centre for International Experience shares her insight on how the field has changed.
BCCIE: Thank you so much for your time today. I'm interested in what led you to first pursue a career in International Education.
DH: In 1986, I saw a job posted at BCIT for a program coordinator. It was similar to an international student advisor role you might see today. I applied and ended up getting this job. Initially it involved care for the Libyan and Lebanese scholarship program and students – these scholarships were administered by the Canadian Bureau for International Education. But then the role grew. I knew I wanted to stay in this field. Once I started in international, there was never any turning back, never a day of boredom.
I am fortunate to have seen many regions of the world that others may not have. However, it is not the travel that drives me to this job, it is the people. It is the feeling that we are giving back. International Education is a clean industry. When I think about what I do, well, I help students create their future. It is very profoundly rewarding.
BCCIE: What have been some of the challenges along the way?
DH: Creating the BC International Education sector that people know today was a challenge in itself. It was a rocky road to get where we are.
During my time as BCCIE board chair, we were trying to establish ourselves and gain funding. This was before BCCIE was a Crown Corporation, and there was an ultimate near-dismantling of our organization. Volunteerism kept us alive for a period of time. We had to work hard to illustrate our value add and there was some political manoeuvring. We really developed the International Education sector alongside each other. BCCIE was always a strong networking force. Today the industry is more oriented toward business and economics, but retains its roots in networking and bringing like-minded educators together.
BCCIE: You have coordinated countless international experiences for BC students. What are simple things we can do to send more BC students abroad?
DH: We need to show students the value of experiential learning beyond the classroom, the value of International Education. It is important for those who have gone abroad to share their experiences. We need to get these stories to students.
Younger generations (those in the K-12 system) are so exposed to different cultures that they naturally have more interest. They are developing very inquisitive minds. Then there is the question of finances. The reality is we have to find ways to bring global experiences into our classrooms because we will never send everyone abroad. Not everyone will be able to afford to go.
BCCIE: What is BC doing well?
DH: BC has always been a leader in connecting people. We knew if we were going to be international educators, we would set out to be the best international educators in the world.
We started this through networking and conversations with those who shared our interests. Today, I really feel proud of our province for its role in professional development and leadership.
In addition, the BC transfer program is strong and underexploited to the world. The offshore schools are also a success, and we could do more to integrate their students into BC pathway programs.
BCCIE: Finally, where do you think the BC International Education sector is headed?
DH: Today BCCIE is a lot more politically engaged, which is necessary. It is important to stay the course, stay connected. In the beginning, we were a bunch of international educators who witnessed the birth of a sector. Where BCCIE is headed involves necessary accountability to ministries, government, social policy. Where I hope BCCIE will stay is in maintaining healthy connections, for example through professional development and the mentorship program.
I know my colleagues, and if I know that if I want to call on them I can. If I have a challenge, an experience to share, or need to run an idea by someone, I know who I can call.
On a side note – technology has now enabled us to have these jobs and maintain our families and lives in a reasonable way. Here I am sitting in my hotel room talking to you on Skype from Chandigarh, India. When I first started travelling for work, I could only call home once every three days for 10 minutes and the costs were astronomical. I really marvel at this.

https://bccie.bc.ca/wp-content/uploads/2016/08/Capture-1.jpg
535
743
Chantal Moore
https://bccie.bc.ca/wp-content/uploads/2023/01/bccie-logo.png
Chantal Moore
2016-08-19 15:34:46
2016-09-14 09:47:45
BCCIE turns 25: An interview with Donna Hooker