The 2016 cohort of BC campers and chaperones
BC students visit Beijing for life-altering cultural exchange
Thanks to BCCIE and the Beijing International Education Exchange (BIEE), 20 lucky secondary school students from across BC arrived in Beijing, China, on July 14. The students are participating in the Beijing International Student Summer camp, which unites high school youth from over 20 countries for a 10-day "life-changing" exchange program in China's historical capital. Students are now experiencing a new culture and enjoying arranged activities while improving their interpersonal and communication skills along with Chinese and international peers.
Students practicing Chinese calligraphy and showing off their newly learned talents.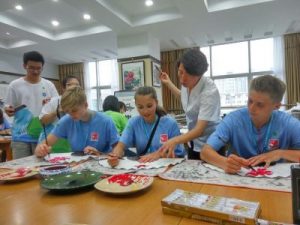 Students at the Beijing National Stadium, also known as the Bird's Nest, where the 2008 Summer Olympics took place.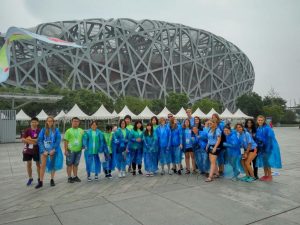 In the next few days, the BC youth will be visiting places such as Tiananmen Square, the Forbidden City, and the Great Wall of China, as well getting the chance to try Beijing's most famous cuisine, the Peking Duck!
For more information, visit the BIEE program website.