Partner with us

BCCIE is now offering a space for you to share sponsored content with BC's International Education community. Sponsored articles enable you to promote your product or service on an engaging platform and are a great way to reach your target audience.
Note: All funds raised help support study abroad opportunities for BC students!
What you get:

A sponsored news posting on the BC Council for International Education (BCCIE) homepage
A landing page with your blog post
Promotion through BCCIE's social media channels
What you provide:

A 300-600 word blog post describing your product or service. Note: Successful sponsored posts are characterized by strong storytelling and a relevant brand that makes people want to read, share and act
A company logo and/or photos
Pricing: $500 CDN, plus tax
Reach

BCCIE is a pioneer in its field and one of the only provincial organizations of its kind in Canada. BCCIE has a wide reach of stakeholder across the K-12, post-secondary and language sectors in BC, Canada and beyond. By partnering with us, you can leverage more than 1,500 contacts who together provide services to BC's 130,000+ international students.


BCCIE's audience is comprised of entry-level all the way up to senior-level staff, presidents and executive directors.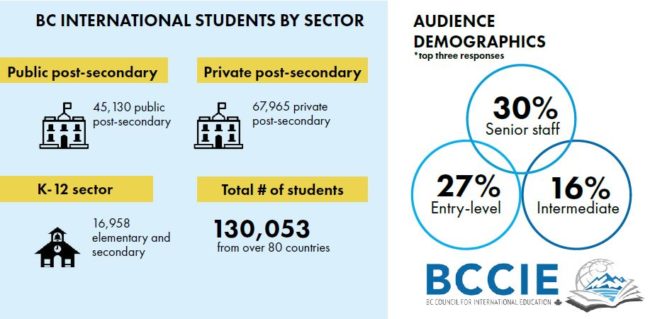 If you are interested in writing for our online platforms, please contact Chantal Moore at cmoore@bccie.bc.ca or download our Partner with us kit.