Tourism Whistler website and Flash your Badge discounts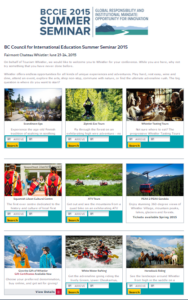 Tourism Whistler has set up a website for Summer Seminar delegates. Visit this site often to schedule fun activities and make the most of your stay.
Delegates are also eligible to participate in the Flash your Badge program. Show your conference badge at participating stores and businesses around the Village to receive great discounts!
---

Participate in the early bird running group

Date: Monday, June 22 and Tuesday, June 23
Meet time: 6:15 a.m.
Meeting location to be confirmed
Whistler offers spectacular scenery in the summer and is perfect for outdoor activities. This year, one of our delegates, Thomas Christensen of Vital English, will be organizing a running group. The run will be a partial trail/hill course and is approximately 6km. It should take under an hour. Make sure to pack your running shoes if you are up for the challenge!
More information will follow.
---

Special golf rate for Summer Seminar delegates

Whistler Golf Club is now offering a special rate for delegates available between June 20-25, 2015!
Guests can log on to Whistler Golf and book a tee time online by using the promo code "BCCIE". This will get them an $89 green fee. Our regular rates are $99/$109 (Saturdays) for BC Residents and $139 for all other guests.
Book now to reserve your spot on the green!
---

Spa discount passes available at the Fairmont Chateau Whistler front desk

Complementary discount vouchers to Whistler`s Scandinave Spa will be availabe to all delegates on arrival. Delegates will receive $10 off bath access or 10% off massage (not applicable on RMT). No reservations needed for bath access but you will need to book the massage ahead of time.
Simply present your voucher at the Scandinave Spa to receive the discount!
For more information, visit the Scandinave Spa website.
---

Discount Code available for Ziptrek Ecotours

Use discount code 2015BCCIE for 20% off Ziptrek Ecotours. Valid on Bear, Eagle, Mammoth or TreeTrek tours, exclusdes P2P packages. Valid on tours departing June 19–26, 2015.
Must be booked onlilne at ziptrek.com. Guests must show their BCCIE name badge as proof at check in.
---

Finer Things Dinner Tour – Private BCCIE Group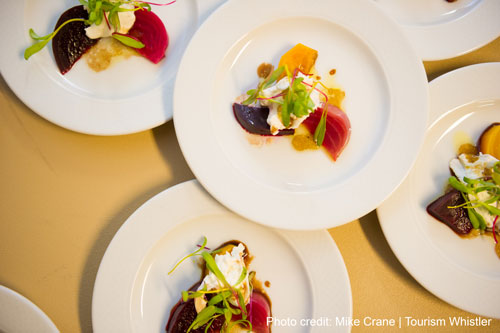 Visit four award-winning restaurants in Whistler, where each course of the delicious dinner happens at a different restaurant. Included is a visit to an impressive 15,000-bottle wine cellar where guests learn to saber champagne. All along the guide will enhance the experience with local knowledge and enthusiasm for the wonderful dining scene in Whistler, while also dealing a playing card at each venue to make a poker hand.
Tour Price: $114.99/pers + 5% GST (incl. gratuities for restaurant servers)
Optional Wine Pairings: $29.99/pers + 5% GST (incl. liquor tax and server grats)
Tour date: Monday, June 22
This will be a private tour for BCCIE delegates. More Information about the Finer Things Tour
---