10 Things to Do
The lakeside city of Kelowna boasts kilometres of parkland, sandy beaches, wineries and orchards. Here are the top 10 things to see and do in the largest community of the Okanagan Valley.
Farmers' and Crafters' Market

w: www.kelownafarmersandcraftersmarket.com
Located by Orchard Park Mall at the corner of Dilworth and Springfield, this is one of the largest farmers' markets in BC. With the emphasis on farm, food and craft by over 165 vendors, there is an abundance of locally produced fruits, dairy, artisan baking, handcrafted pottery, soaps and more. From April to October, the opening hours are 8 a.m. to 1 p.m.
---
Wineries

w:
www.tourismkelowna.com/do/wine/
With over 30 wineries in the region, there are five different sipping trails to explore: Westside Wine Trail, Lakeshore Wine Route, Kelowna Fab Five, Downtown Grapes and Grains and Lake Country's Scenic Sip. Wines from Kelowna have won national and international awards. You can opt for guided tours that will drive you along a customized wine trail.
---
Farm to Table

w: www.tourismkelowna.com/do/farm-to-table/
Taste the freshness in a self-guided Farm to Table tour through scenic landscapes of farms and agri-related sites to amazing restaurants. Talk to locals, chefs and winemasters to find out where your food comes from. It will be a well-rounded dining experience you won't forget.
---
Knox Mountain

Take it outdoors and hike Knox Mountain. It boasts a range of trails that take 45 minutes to 2 hours to complete. The summit reaches 646 metres above sea level and Paul's Tomb still exists for visitors to find.
---
Kettle Valley Railway

Kettle Valley Railway is an abandoned railway bed that stretches from Midway to Hope. It boasts spectacular views and includes 600 kilometres of travel routes. Join cycle tours that range from day trips to two-week adventures or rent a bike and explore at your own pace.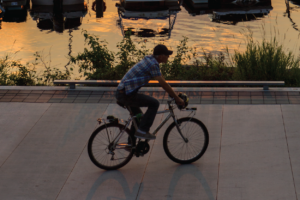 Courtesy of tourismkelowna.com – Shawn Talbot
---
Walk on Foot

Discover the Cultural District that spans six-blocks in the heart of downtown Kelowna. Embark on a self-guided tour on foot and see the galleries, museums, theatres, public art, shops, cafes and restaurants in the area.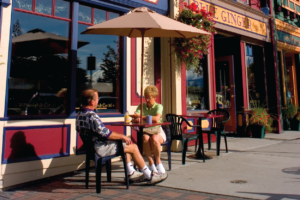 Courtesy of tourismkelowna.com
---
Honey Farm

Spend a sweet afternoon enjoying a true farm experience on beekeeping. Learn about the wonders of the honey bee on a tour and stroll through the buzzing park. The gift shop carries an assortment of natural honey and bee products. Tours by appointment. Closed Sundays.
---
Orchards

w: Orchards
The region's climate and setting lends to a long growing season where fruits, flowers and herbs flourish. Take advantage of the summer warmth and learn about the fertile region at the different orchards in the area. Try your hand at U-Pick fruits and vegetables to take home!
---
Outdoor Recreation

There is no shortage of activities to do outdoors in Kelowna in the summer. Organize your own adventures or with a local tour operator by car or via helicopter. Thrill seekers can enjoy paragliding, hang gliding, ziplinig and more.
---
Ogopogo

Try to spot the famous Ogopogo, a fierce lake monster in Okanagan Lake. Legend has it, Ogopogo is a green snake-like creature spanning 25 metres long. If you can't find it, take a photo with the Ogopogo statue in City Park and have a nice stroll instead.
FAQ
Summer Seminar Questions:
What is Summer Conference all about?
How were the BCCIE International Education Award winners selected?